Featured Offers
View All Offers
Audi Q3 SUV

Lease Offer

2018 Q3 SUV

Offer only valid 08-01-2017 through 08-31-2017

Audi A3 Sedan

Lease Offer

2017 A3 Sedan

Offer only valid 08-01-2017 through 08-31-2017

Audi A6 Sedan

Lease Offer

2017 A6 Sedan

Offer only valid 08-01-2017 through 08-31-2017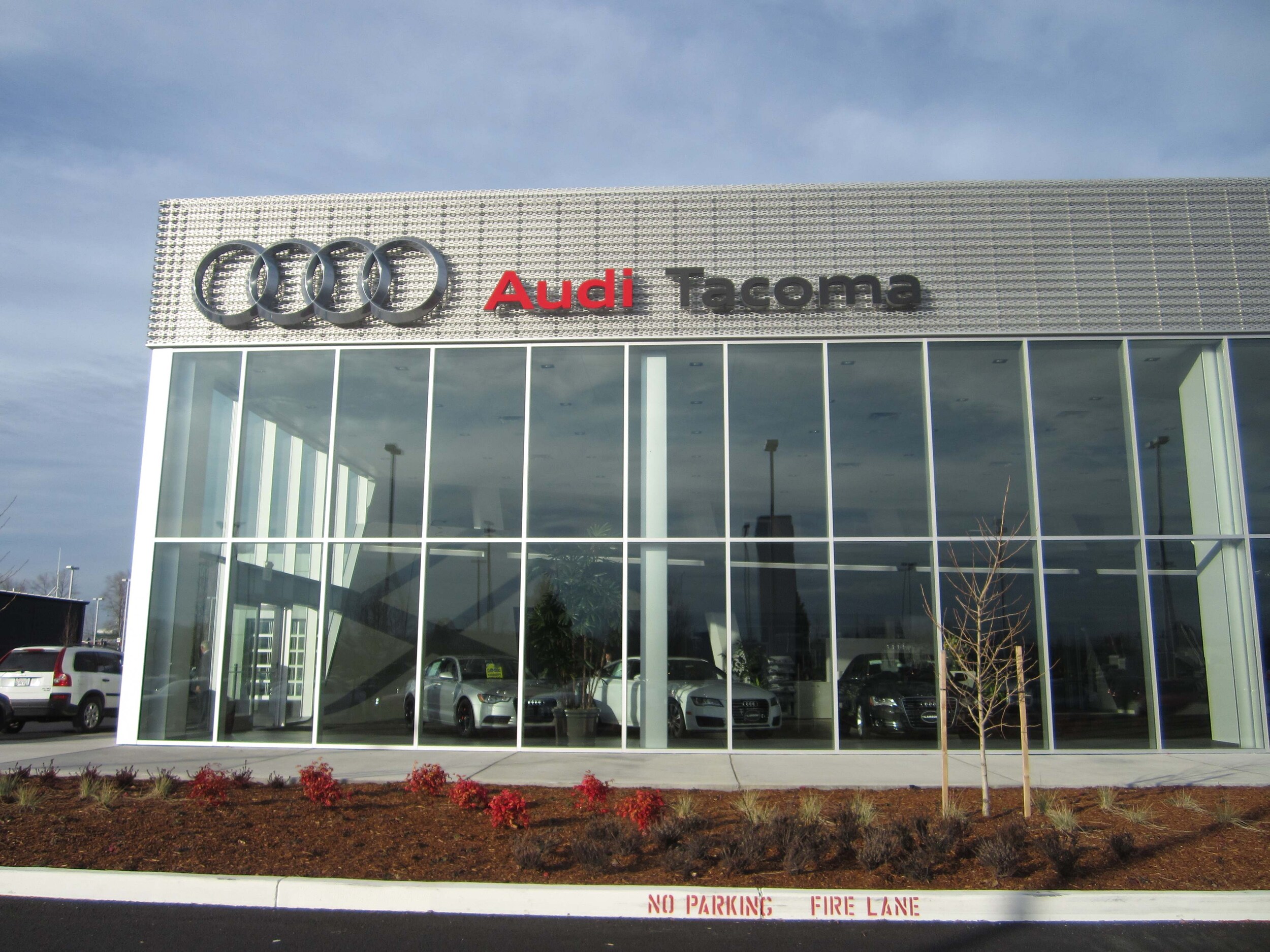 Welcome to Audi Tacoma
Audi Tacoma, Proudly Serving Fife, Tacoma WA, Puyallup WA, Bonney Lake, Olympia and JBLM, Offers More Than Just Friendly Service
What can you expect when you enter the Audi Tacoma showroom? Well, aside from a warm welcome, a great selection of new and used cars to choose from, as well as onsite auto service, a vast collection of parts and a financing team that understands the needs of drivers like you. If that sounds good to you, come see us today in Fife, Washington.
We always say here at Audi Tacoma that the only thing better than inspecting and experiencing that new car smell on a new Audi A4, Q5, A3, Q7 or A6 is to test it out on the road. Our highly knowledgeable and supremely friendly staff will help you work through all aspects of any model that is of interest to you, so you will feel completely, 100% informed when it comes times to make a decision.
If you're seeking a more cost-effective option, then we have the perfect alternative for value-seeking drivers throughout Fife, Tacoma WA, Puyallup WA, Bonney Lake, Olympia and JBLM. In addition to our new vehicles, we maintain comprehensive selection of top-quality Certified Pre-Owned Audi models and used cars for you to choose from! That gives you the chance to save money on your next car without compromising safety, quality or performance.
Have Your Heart Set on That One Audi Model?
Audi Tacoma, Serving Fife, Tacoma WA, Puyallup WA, Bonney Lake, Olympia and JBLM Can Make it Happen
Bring those dreams of a Audi A4, Q5, A3, Q7 or A6 in your garage to a reality with the help of our flexible auto financing opportunities. At our dealership in Fife, our team of experts is ready to dish all you need to know about our available car loan and lease options.  Stop by today to find the car that's right for you for a price that's right too.
We Provide Top-Quality Repairs and Service to Audi Drivers
Now, we know that it's critically important for you to invest in quality car care to maintain your vehicle's top-quality and spotless condition over the years. It's for that reason we encourage you to bring your car into our Audi Service Center in Fife. We staff expert technicians that employ genuine parts and accessories to repair or service your car efficiently and affordably.
We could talk all day about everything we have to offer our valued customers here at Audi Tacoma, but truth be told, we would love to show your firsthand. We cordially invite you and your family to come visit us, any time, at 1701-B Alexander Ave. East,Fife, Washington. Whatever your automotive needs may be, we will work incredibly hard to meet them.