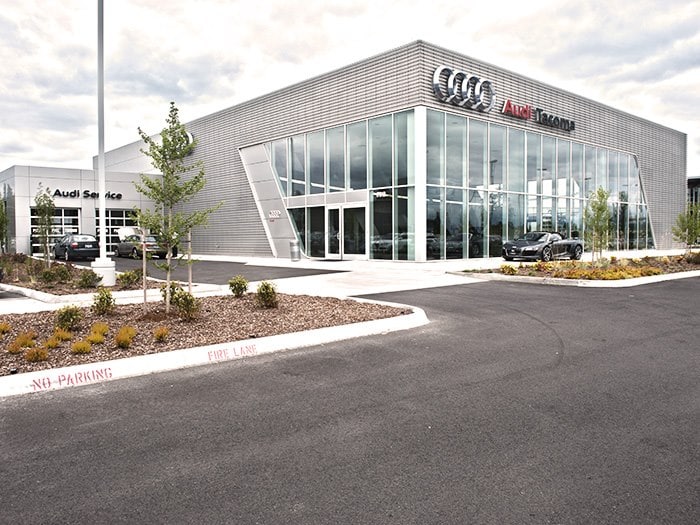 Audi Tacoma proudly serves luxury buyers from Olympia WA
At Audi Tacoma we regularly serve shoppers from Olympia WA by providing a great selection of luxury vehicles and top-notch service center care. True, we are a little further away than some of the locations we serve, but in about 40-minutes from the State Department buildings in Olympia's downtown you can be at our showroom. Most of the driving takes place on 1-5 N, and once you arrive you'll be more than impressed with your dealership experience.
With the amount of rain and snow that our area gets, you will want a vehicle that keeps control even when conditions take a turn for the worst. When you come to Audi Tacoma, you will find a large selection of new Audi models that all have the Audi quattro All-Wheel Drive (AWD) system. Using all the wheels to control torque, Audi models maintain handling and control through any weather condition, making it an ideal match for Washington state.
We want to be sure you are getting into a vehicle that meets all of the needs of your life. Our selection of new Audi models includes the A3, A4, A5, A7, Q3, R8, S5, TT, and many more. It doesn't matter if you are looking for an SUV, sedan, wagon, or hatchback, we have a model for you.
If you don't think any of these will do it for you, our pre-owned inventory covers many model years, makes, and models. This expands your selection by including top manufacturers like Honda, Ford, Nissan, Porsche, smart, Subaru, and more, all in one place. Our pre-owned selection is inspected before being listed to make sure your vehicle will be as reliable as possible. We can take care of any problems so that you don't need to waste time worrying about your vehicle.
Roughly a half hour from Olympia, WA, Audi Tacoma in Fife, WA is sure to have a vehicle tailored to the demands of your life. Even if you are basing it solely on the needs of this region, an Audi is a smart choice because it will maintain control when weather conditions become bad. Whether you are taking your family to the Hands On Children's Museum, or if you have spent the day at Tumwater Falls Park, an Audi is perfect for the trip.
We encourage you to visit our dealership for a test drive.
Getting to Audi Tacoma from Olympia
From Union Ave SE, make your way onto Plum Street SE
Follow Plum Street SE for 0.7 miles and then merge onto 1-5 N
Stay on 1-5 N for 26 miles
Get into the right lane and take Exit 133 heading towards City Center
Follow for 1.9 miles and continue right onto 1-705 N briefly
Take WA-509 N/S 21st St exit that go towards Port of Tacoma
In 0.2 miles turn right onto WA-509 N. You'll still see signs for Port of Tacoma. Follow for 2.9 miles
Towards the end of the railway that is on your left, take a right onto Alexander Ave E
Follow for 0.4 miles and turn left
Take the second right and your destination will be on the right
Get Directions
* Indicates a required field
Luxury Vehicle Shopping
After you've arrived a salesperson will show you to our beautiful selection of hundreds of new Audi models. Some of our most popular vehicles are the Audi Q Series crossovers, including the Audi Q5 and the larger Audi Q7 that is perfect for families in Olympia. Even though we have our "favorites", we still carry options ranging from the entry-level Audi A3 to Audi models that cost multiple six-figures, so no matter your tax bracket you're sure to find a luxurious Audi that will make you feel good during your commute.
If you'd prefer to go the pre-owned route, you'll have a larger selection to choose from, and that's because we're part of a bigger automotive group. Our pre-owned inventory is made up of many brands, and that of course includes pre-owned Audi and Certified Pre-Owned Audi models. We want to make sure buying pre-owned doesn't give you any headaches, so we rigorously review all our vehicles that have had previous owners, ensuring that you just get great value and great features and not service bill after service bill.
Financing an Audi Model
Once you've chosen your new or pre-owned Audi model, our financing center can go over the Audi incentives for buying or leasing. Since it does take a bit of time to get to us from Olympia, we suggest filling out our safe and secure online financing form before you arrive at our Fife WA location. With our dealership you won't find the usual back-and-forth gimmicks, as we believe in transparency and not wasting your time! And whether you're a young professional who just stepped into a management position, VP, or retiree who enjoys spending their afternoons at the Olympia or Indian Summers golf courses, you'll find the same respectful service and attention to detail.
Maintaining your Audi Selection
All vehicles need routine maintenance and care, and that is especially true for luxury models, like Audi's. They have very complex mechanical and computer systems, and you don't want to bring your Audi sedan, roadster, or crossover to just anyone. Our trained service center techs have a deep understanding of these vehicles, get data and information directly from the manufacturer, and they work with our Audi parts center team to ensure that only Genuine products are purchased when you come in for service. You won't find that level of consistently with a local mechanic who specializes in European models! Plus, we have a comfortable waiting area and late hours during the week so that you don't have to rush over from the office in Olympia.
If you're ready to drive through Olympia in a beautiful Audi vehicle, or you just moved to the area and are looking to establish yourself with an Audi service center, get onto 1-5 N to visit our dealership and experience our great knowledge and customer care.
Make an Inquiry
* Indicates a required field
Hours
Monday

9:00AM-7:00PM

Tuesday

9:00AM-7:00PM

Wednesday

9:00AM-7:00PM

Thursday

9:00AM-7:00PM

Friday

9:00AM-7:00PM

Saturday

9:00AM-7:00PM

Sunday

10:00AM-6:00PM