Audi Service Center in Fife, WA
Schedule Superior Audi Car Service and Auto Repair Near Tacoma
Driving to work, dropping the kids up at school, picking up groceries, going out to dinner, or visiting relatives. There's always somewhere to be for the average Washington driver. If you have the pleasure of being an Audi owner in Fife or Tacoma, it's important to have a nearby Audi dealership where your luxury car or SUV can receive expert-level service and repair. Audi Tacoma is a premium Audi dealership for those throughout the Puyallup, Bonney Lake, and Olympia areas.
You can schedule service visits at the state-of-the-art repair facility at Audi Tacoma. From genuine Audi parts and accessories to factory-trained, detail-oriented Audi technicians, there's more than one reason to schedule your next Audi oil change with us.
Service Menu at Audi Tacoma Near Olympia
Every Audi model is an example of a well-oiled machine. It's crucial to take care of every automotive element, from the engine to the tires to the transmission. Audi Tacoma, serving Bonney Lake, outlines a service menu featuring all minor and major car repairs. You'll schedule some types of auto maintenance routinely, like an oil change and tire rotation. Others will occur every three to five years, like tire and battery replacements. Does your Audi Q5 need any of the following auto services?
Multi-Point Inspection
Oil and Filter Change
Engine Tune-Up
Brake Adjustment
Tire Rotation
Front-End Alignment
Battery Replacement
Transmission Repair
Coolant Flush
State Inspection
Check Engine Light Diagnosis
New Tire Installation
Cabin and Engine Air Filter Replacement
How to Schedule Your Next Audi Service Visit
We won't require you to pick up the phone or swing by Audi Tacoma to book a service appointment. We make service scheduling less time consuming by providing our Washington customers with an online option. You can sign in to request an Audi service appointment in minutes. If you're a new Audi Tacoma customer, you'll input your vehicle's make, year, and model. If you've scheduled service appointments at Audi Tacoma before, you can sign in using your account information.
Your service request will go straight to Audi Tacoma, and an Audi service advisor will contact you to verify the time that you'll bring your Audi A4 in for a front-end alignment. There's never been an easier or quicker way to get your Audi Q7 in for a brake inspection or filter replacement.
Audi Service and Parts Specials Near Puyallup
If you purchased a new sedan or SUV from us, you know that Audi Tacoma offers new vehicle specials. For Washington Audi owners, we're proud to offer service coupons. With one of our service promotions, you may save on your next set of Audi Original Tires. We also advertise special savings for senior citizens and military members in need of auto service. Look at current service discounts before submitting your appointment request to Audi Tacoma - a short distance from Bonney Lake.
Learn About Audi Care Plan at Audi Tacoma
Did you know that there are prepaid scheduled maintenance packages available at Audi Tacoma? If you'd like to sustain peak Audi performance and accrue savings on auto service, check out the Audi Care Plan at your Fife Audi dealership. Based on the mileage of your Audi A3, you'll receive the recommended scheduled maintenance. Did we mention that we'll only use genuine Audi parts to repair your Audi SQ5? With an Audi Care Plan, you'll know that you have top-of-the-line experts taking care of your luxury vehicle.
We want to preserve the quality of your Audi, which is why we deliver expert levels of automotive repair and restoration. If you know that your Audi A5 is overdue for a fresh oil filter, take a minute to complete a service request on your mobile device.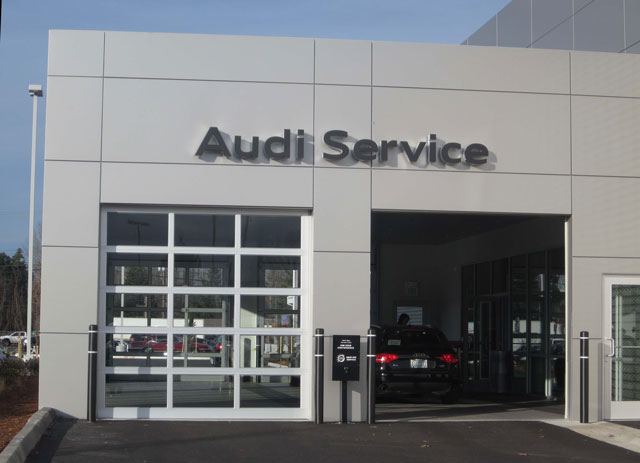 Service Hours
Monday

7:00AM-6:00PM

Tuesday

7:00AM-6:00PM

Wednesday

7:00AM-6:00PM

Thursday

7:00AM-6:00PM

Friday

7:00AM-6:00PM

Saturday

8:00AM-5:00PM

Sunday

Closed